TYPO Font Editing System Specification Summary
TYPO is a professional, most powerful yet user-friendly system for editing outline and raster fonts, logos, and icons in a multitude of formats, including Adobe Type 1, the de facto industry standard for high-quality electronic publishing.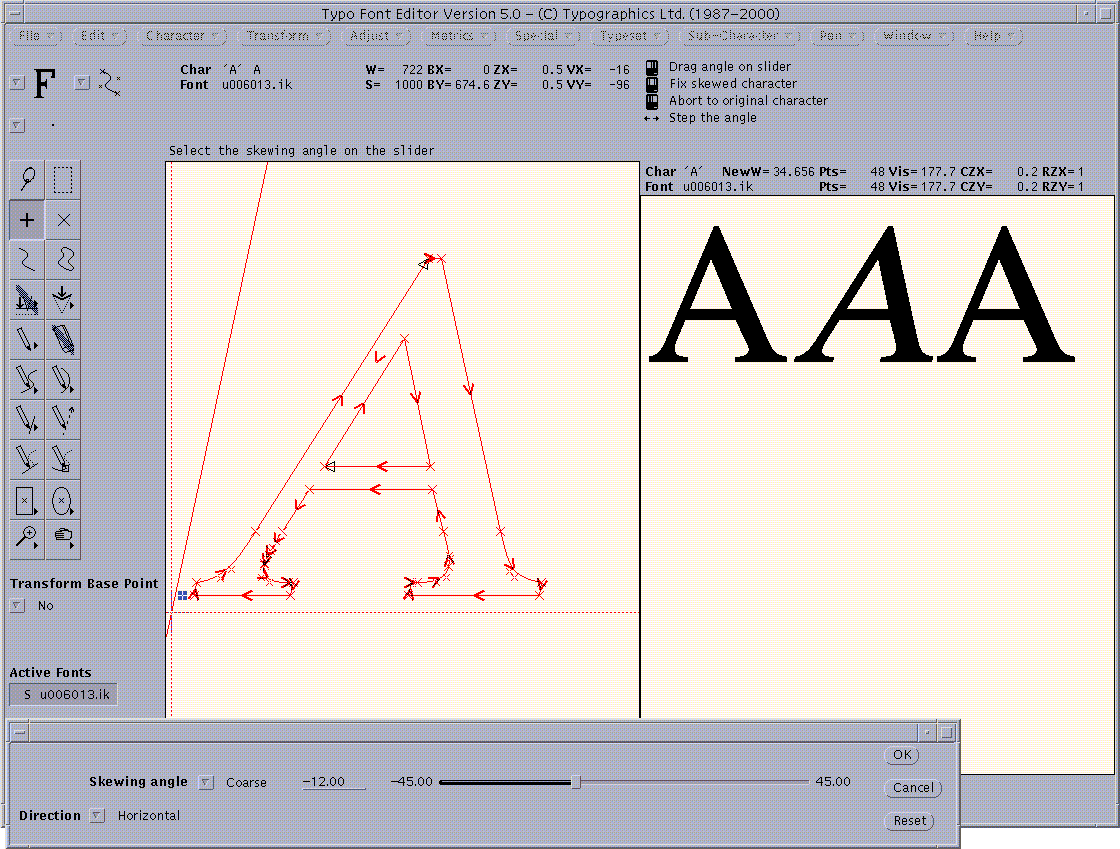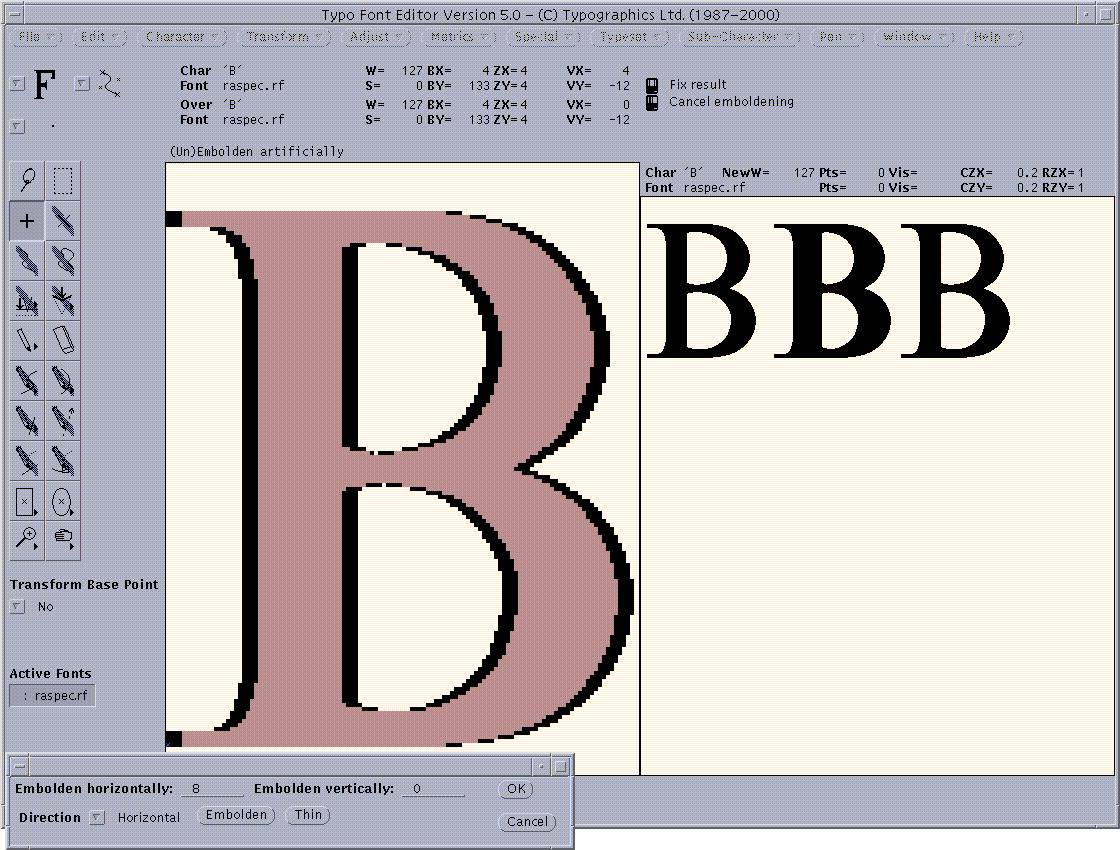 The TYPO Font Editing System is a full-featured design system for the creation and maintenance of fonts, logos, and icons for electronic publication. The TYPO system handles raster as well as outline fonts. Many industry and academic font formats are supported. Among these is Adobe Type 1, which has become a standard in electronic publishing.
The documented ASCII font format used internally in TYPO permits customers to easily program interfaces for individual font formats.
The TYPO Font Editing System consists of the TYPO Font Editor and an extensive collection of format conversion programs invoked by the editor on loading/saving fonts.
The TYPO Font Editor is a highly interactive tool with clearly arranged displays, an uncomplicated but powerful menu-oriented user interface, and permanent guidance. These features allow the optimal use of TYPO for novices as well as experts, for document writers as well as type artists, making the development and maintenance of fonts efficient and cost-effective.
Fonts are converted between TYPO internal format and external formats, such as Adobe TYPE 1 or SUN F3, by automatically invoking the relevant conversion programs on loading/saving fonts.
TYPO is thus a powerful addition to publishing systems, satisfying the need to create individual characters, symbols, and logos in very short time.
TYPO key features include:
Highly interactive with immediate response and graphical feedback
Ergonomical menu and mouse oriented user interface
Permanent user guidance and display of mouse key meanings, so that the user does not get lost
An on-line manual using your favorite browser
Displaying a background character behind the currently edited character
A rich toolkit includes selections of curves and/or curve points, dragging, drawing curves or splines, and free-hand painting
Displaying the currently edited character within a text of other characters (outlined, filled, or pen-traced)
Zooming and scrolling
A rich set of transformations, such as scaling, translating, rotating, skewing, projective transformations, or interpolating
Displaying coordinates and angle sizes at the user's option
Changing coordinates and angles interactively by dragging character features or by entering numeric values, to allow both intuitive and precise control over the characters and their component curves
Assignment of commands to function keys to allow individual keyboard abbreviations for all types of users
Undo for all character operations
Outline character elements are Bezier curves, circular arcs, lines, and movements
What-you-see-is-what-you-get editing for outline and raster characters:

Dragging outline curves in real time, with or without preserving outline smoothness
Pixel painting or pen painting, followed by curve fitting for outline characters

Editing operations such as cut-and-paste, adding/deleting outline curves or pixels, adding/deleting slices, reversing paths, automatic conversion from outline to raster, automatic conversion from raster to outline
Global editing operations and transformations may be applied to all characters in a font
Adjustments for outline curves, such as horizontal, vertical, parallel, perpendicular, collinear, and spline fitting
Hierarchical outline characters: define a character feature, e.g. a serif, only once, and then include this feature in several characters; change this feature, and all its references get changed as well
Defining hints for high-quality rasterization of outline fonts also at low resolution or small character sizes
Horizontal and vertical guide lines define various relevant font heights and bearings, e.g. ascender, x-height, left bearing, right bearing; guide lines can be slanted for italic or oblique characters. Guide lines give visual support to the font designer, but are also relevant for the interpretations of hints, for instance by Adobe TYPE 1 printers and interpreters.
Kerning character pairs
Simultaneous management of up to four fonts and management of whole fonts in a special window at one glance
Creating outline characters from scanned art via PCX or SUN rasterfile format, automatically converting these into outline characters, with possible manual corrections, using a unique high-quality algorithm
Font formats supported by TYPO:

Adobe TYPE 1 and TYPE 3 curve fonts
PostScript raster fonts and AFM metric files
PostScript encapsulated raster and curve files
SUN F3 font
Frame Maker bfont fonts and bfm metric files
Metafont fonts
BDF (X windows) fonts
TeX GF, PK, and PXL fonts, PL metric files
Ikarus IK and SC fonts, SP metric files
UNIX vfont fonts
PCX and SUN rasterfile raster files
SUN icon files
multi-icon include files

Simple documented ASCII internal font formats allow for easy interfacing with other font formats
Runs on SPARC workstations under the X (or OpenWindows) window system, under Solaris.
Adobe, FrameMaker, and PostScript are registered trademarks of Adobe Systems, Inc.
SUN, Solaris and SPARC are trademarks of SUN Microsystems, Inc.
UNIX is a trademark of UNIX System Laboratories.
All other trademarks are either trademarks or registered trademarks by their respective owners.
Specifications are subject to change without notice

(C) 2000 Typographics, Ltd.